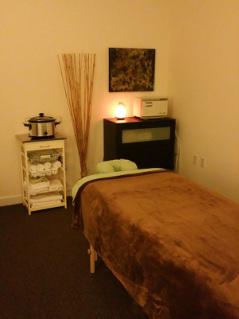 I am available at the following times
by appointment only:

Monday through Thursday 11:00am to 8:00pm

Friday 9:00am to 5:00pm

Saturday: 10:00am to 4:00pm. Please contact me for Saturday appointments.
Basalt and Bamboo Massage Therapy is located in Six Forks Office Center, inside Exponential Wellness :8356 Six Forks Rd
Suite 104
Raleigh, NC 27615


919-578-2516
There is plenty of parking in the complex. Come on in, make yourself at home with tea or water in our waiting area and I'll be out to greet you shortly.
"Often the hands will solve a mystery that the intellect has struggled with in vain." ­- Carl Jung

Basalt and Bamboo Massage Therapy 8356 Six Forks Road, Suite 104, Raleigh, North Carolina 27615